Heart of an Athlete
Oct 2011


Q&A with Ahna Lewis
Cross Country
West Virginia University



"It is God who arms me with strength and makes my way perfect. He makes my feet like the feet of a deer; he enables me to stand on the heights." – Psalm 18:32-33 (NIV)

Growing up in Morgantown, W.Va., Ahna Lewis looked up to the athletes at West Virginia University and dreamed of being a Mountaineer herself one day. Now that her dream is a reality, this redshirt-senior cross-country runner remembers the impact those former athletes had on her, and she embraces her opportunity to influence others. But, for Lewis, it's about more than just making a positive difference; it's about making an impact for Christ.

STV: As a local kid, how does it feel to be a West Virginia Mountaineer?
AL: I always wanted to be a part of the WVU team. I'd been around West Virginia athletics my whole life and watched and admired the athletes. A few of them were volunteer coaches for my youth track club, and it was inspiring to run with them and be encouraged by them. So, being offered a spot on the team was exciting and a real dream come true.

STV: How much different is the training and competition in college when compared to high school?
AL: It's a lot different in that we run farther distances and the workouts are harder and longer. But we're also given freedom in completing our workouts. Our coach trusts us to do everything we're told. If we have to do a morning run, we don't have to check in with anybody; we are just expected to do it. You have to be self-disciplined because the responsibility is on you and your desire to excel.



"I race with an attitude of love and good sportsmanship and try to reflect the Spirit of Christ…"

The competition at this level is tougher, too. Instead of just competing against one state, you're facing people from all over the country. It's steep competition, but it's definitely a great challenge and opportunity.

STV: How has your faith in Christ impacted your athletic career?
AL: I believe that God has given me and all of His children talents to be used for His glory. Athletics are a great opportunity to shine for Him because each day we're challenged to do things that are impossible in our own strength. I have to trust God and rely on Him for strength at practice and in competition. He brought me here and will help me perform.

I also have the chance to be a witness to my teammates and competitors—people that I would never have gotten to know without sports. I race with an attitude of love and good sportsmanship and try to reflect the Spirit of Christ—not with an "out to beat everybody" attitude, but with an attitude of encouraging those around me to do their best.

STV: Has your involvement with FCA helped your relationship with the Lord?
AL: Definitely. I've been involved with FCA since I came to WVU and have been on the leadership team for the past three years. Discipleship and one-on-one time with Huddle members has given me the chance to get into the Word and study, which has really impacted my life.

College can be tough, but having other Christians around to encourage you when you are down and who point you to Scripture has been great. Seeing other athletes who love God and are trying to serve Him with their abilities is very encouraging.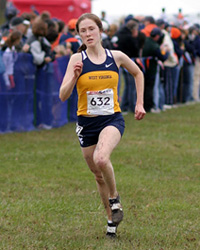 About the Athlete:

School: West Virginia University
Hometown: Morgantown, W.Va.
Year: Senior (RS)

Notes:
• 2-time qualifier for the NCAA Championships
• 3-time qualifier for the BIG EAST Championships
• BIG EAST Academic All-Star (2008)
• USTFCCCA All-Academic Team (2008)

FCA Quote:
"Ahna is an all-around great example in the classroom, in sports and in leadership as a team Bible study leader and member of Huddle's leadership team. Most of all, though, she sets a great example through her personal relationship with Jesus Christ." – Amy Wagner FCA Campus Director, WVU Morgantown, W.Va.
--For more stories about faith and sport, visit www.sharingthevictory.com, the official magazine of the Fellowship of Christian Athletes. To subscribe to STV, click here.


Courtesy of Tad Davis Photography; WVU Photography