Heart of an Athlete
June/July 2010



Brittany Poist
University of Maryland
Lacrosse

Chosen Topic: Teamwork

Dictionary definition: "The cooperative or effort of a group of persons acting in the interests of a common cause."

My definition: "Putting the team's goals and needs above my own. It goes hand in hand with selflessness and can be seen in every player and coach on successful teams."

Favorite Scripture that deals with teamwork: Ecclesiastes 4:12 (NIV) – "Though one may be overpowered, two can defend themselves. A cord of three strands is not quickly broken."



"Relationships are the essence of life..."

Why I chose this verse: "I memorized this verse as a little girl because it applies to relationships and athletics so well. The first strand is you, the second strand is another person in your life, and the third is the Lord. In order to have deep, lasting relationships, you must seek God in every part of the cord. Symbolically, if you were walking with a friend or teammate down the road, you should be walking with the Lord between you, and each of you should be holding His hand in order to be connected to each other. That is a great picture of teamwork."

How teamwork applies to sports: "Teamwork can be applied to every aspect of lacrosse. The prettiest plays are those that start with a big stop by the defense and then, through a series of connect-the-dot passes, result in a transition goal.

"On defense, double-teaming, communicating and playing 'team D' are keys. I fight for groundballs and come up with the ball on the defensive end so I can give it back to my team's attackers. That aspect of my game doesn't lead to amazing stats or glory, but I take pride in knowing I'm making a huge difference on the outcome of our games."

Maryland Women's lacrosse take national title. Click here to read the article.



How teamwork applies to life: "Relationships require teamwork. In order for my relationships with family, friends and teammates to grow, they have to be two-way streets. Both sides of the relationship have to give, sacrifice and seek the Lord constantly. Relationships are the essence of life, and God made it that way for a reason. I've been blessed to see a good example of teamwork in my parents. They've made their marriage and our family work because of their teamwork. They are a unified and fortified wall, and that has inspired me and helped me learn how to create better relationships in every arena of my life."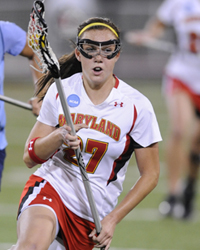 About the Athlete:
•2009 NCAA Final Four All-Tournament Team
•2008 WomensLacrosse.com All-Rookie Team
•Before transferring to Maryland, Poist led the nation in caused turnovers as a freshman at the University of Louisville (2008).
Hometown: Hampstead, Md.
Class: Junior
Position: Defense
FCA Involvement: After her freshman year in college, Poist began serving as an FCA Huddle Leader and coach at summer camps. She is currently a member of the Maryland FCA leadership team.
"God used FCA to remind me of His love for me and the plan He has for my life," Poist said. "My walk with God is mine because FCA taught me how to make it mine. I'm not perfect, and I still have struggles in my life, but I know that I'm never alone in that struggle."
FCA Staff Quote:
"God has blessed Brittany with tremendous abilities and opportunities. It's exciting to see her use the platform God has given her to be an example to so many female lacrosse players." – Ryan Horanburg, FCA Lacrosse National Director
--For more stories about faith and sport, visit www.sharingthevictory.com, the official magazine of the Fellowship of Christian Athletes. To subscribe to STV, click here.
Courtesy of Maryland Media Relations