June/July 2010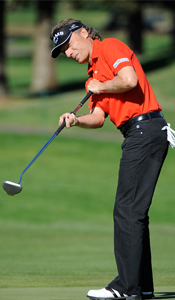 Bernhard Lancer

Hometown: Anhausen, Germany
Born: August 27, 1957
Turned Pro: 1976

Career Highlights:
•Two-time Masters Champion (1985, 1993)
•2001 World Golf Hall of Fame inductee
•Jack Nicklaus Trophy winner (2008-09)

The Augsburg Country Club was just five miles from my boyhood home in Anhausen, Germany. My older brother, Erwin, was a caddy there, and, when I was 8 years old, I asked if I could go with him. Every day he would come home with a few Deutsche marks from caddying, and, since I wanted to earn a little money to buy sweets, caddying sounded just fine to me.

As a caddy, I also had the opportunity to play golf for the first time. We used the old clubs that the members gave us to share, and, during the summers, we could play for hours while we waited for the members to show.

Over time my love for the game grew, and, when I was 15, I finished school and became an assistant professional at a club in Munich. I worked there for three and a half years before I became a professional player and joined the European Tour.

To that point and even into the first 10 years of my pro golf career, my spiritual life could be described as "just going through the motions." I went to church growing up and knew all the right things to say, but I didn't have a personal relationship with Jesus.

That all changed in 1985. I had just won the greatest tournament in the world and by far the biggest tournament of my career: the Masters. As I slipped on the green jacket in the Butler Cabin at Augusta National that Sunday evening, I actually took the Lord's name in vain on national television as I recounted my thoughts from the final round. I was completely oblivious to what I had done by using His name so flippantly.

Just a few days later, as I drove to the next PGA Tour stop in Hilton Head, S.C., I started having some unusual thoughts. Here I was, ranked No. 1 in the world, married to a wonderful wife, loaded with money, cars and fame. I had it all, but there was still an empty feeling inside me.

After a practice round, fellow Tour player Bobby Clampett invited me to a Bible study the next evening. My wife and I both went, and we were greeted by Larry Moody, the PGA Tour chaplain, who told me he had actually been praying for me since I had accepted the green jacket on Sunday.

I will never forget the message that night. It was from John 3:3-5 where Jesus tells Nicodemus that he must be born again to go to Heaven. It was exactly what I needed to hear.

Nobody had ever told me that I needed to be born again and have a personal relationship with Jesus. Nobody had ever told me that my sins could be forgiven through His death and resurrection. I'd always thought I had to earn my way to Heaven by being a good person. Because I knew I wasn't perfect, I always had an uneasy feeling that I wasn't going to be good enough.

That night, it became clear that Jesus Christ was what I'd been missing. A few weeks later, my wife and I accepted Him as our Lord and Savior.

That decision changed my life. It especially changed my relationships with other people as I began to let Jesus' love flow through me. My brother, who thought I'd joined some strange sect, didn't know what to think. But one afternoon as we drove through Germany, he started asking questions about my faith. Eventually, through the work of the Holy Spirit, he and his wife, as well as my parents and many of my close friends, all became believers.

Fast forward to Easter Sunday 1993. Once again, God blessed me with a victory at the Masters. Again, when I went into the Butler Cabin, I was asked how it felt. This time, though, I was able to share on national TV that, while it was always special to win the Masters, this was even more special because it was on the day when we celebrated the resurrection of Jesus.

Since then, I've had the chance to witness to many people. And every morning, I give my day over to Christ and pray that the Holy Spirit will guide me. I pray for God's peace, knowledge and understanding. Then, out on the golf course, I do the best I can to honor Him.

What about you?
Have you, like Bernhard Langer, achieved a goal only to find that it was less fulfilling than you expected? Have you ever felt empty inside? Apart from a relationshipwith Jesus Christ, none of us will ever be truly at peace. That's because we were created to be in relationship with the One who died for us and who loves us with unconditional, everlasting love.

If you want to experience the kind of love that will fill every empty space in your heart, call on Jesus. Ask Him to come into your heart and become the Lord of your life. Receive His forgiveness for your sins and start a relationship with Him. If youhave questions about what that means, ask a trusted Christian friend or pastor, visit morethanwinning.org, or call FCA's National Support Center at 1-800-289-0909.
--For more stories about faith and sport, visit
www.sharingthevictory.com
, the official magazine of the Fellowship of Christian Athletes. To subscribe to STV, click
here
.


Photos courtesy PGA Tour