Heart of a Coach
April 2011
Q&A with Tim Bogar
Boston Red Sox
Third Base Coach

"Trust in the LORD with all your heart, and do not rely on your own understanding; think about Him in all your ways, and He will guide you on the right paths." – Proverbs 3:5-6

A major league third-base coaching box is no place for the indecisive. For Tim Bogar—the man who holds the position for the Boston Red Sox—every split-second decision he makes carries tremendous weight not only for the team, but also for the die-hard fans at Fenway Park. But as a former player himself, Bogar isn't intimidated by the situation. Instead, he draws on his faith in Christ and finds the strength to bravely face each day, each game and each play.


STV: In what ways did being a player prepare you to be a coach?
TB: I was a utility player, so I spent a lot of time filling in where I was needed and doing whatever it took for my teammates to be ready to play. When I transitioned into coaching, that translated into a natural desire for me to see my players succeed and to do whatever I could to make that happen.

STV: In your opinion, are players at the professional level still teachable?
TB: Definitely. They have a tremendous competitive drive, and that makes them want information that will make them better. I'm able to share from my experiences and give them a different perspective on what they are seeing and doing. I have the opportunity to help them, and it's pretty neat once you earn their respect and know that they trust you.



"God's plan is always the one I want to go with for that day."

STV: As a Christian, do you also see your interaction with players as a ministry?
TB: A thletes have everything they want from a worldly perspective, so it can be hard for them to turn to the Lord. I honestly believe that the way I present myself has an effect on the guys. When given the opportunity to have conversations about faith—which happens more than people think—it's important for me to be able to explain my beliefs. When we as Christians walk out our faith on a daily basis, it really breaks down walls.

STV: How did you come to know the Lord?
TB: In 1995, I was going through some difficult times, and a few of my teammates were there for me. I watched how they were living, and I realized I was missing something in my life. They led me in the right direction and helped me accept the Lord and begin a personal relationship with Him.

STV: Having been a Christian in baseball for a number of years, have you been able to see the benefits of sports ministries?
TB: With travel and our crazy schedules during the season, ministries like FCA and Baseball Chapel are invaluable. They help us stay focused on the Lord no matter what happens away from the diamond. That's been a blessing.

STV: Since 2004, World Series titles have become the expectation in Boston. How does your faith help you handle the pressure?
TB: Being the third base coach and in a highly visible position hasn't been an easy adjustment for me. I study the book of Romans to remind myself that I can't allow the judgment of others to change the way I make decisions. My faith helps me deal with both the success and failure of those decisions.

The organization and the community expect a lot out of us, but the pressure to win a title is a good thing because that's the goal of our job. I wake up every day ready to do what I am supposed to, and I try not to get ahead of myself. God's plan is always the one I want to go with for that day. If I linger too much on the past or look too far ahead, I'm not focusing on what is most important: living for Him.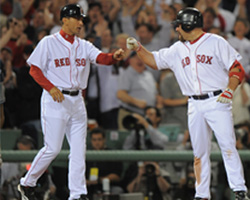 About the Coach
Playing Career:
• New York Mets (1993-1996)
• Houston Astros (1997-2000)
• Los Angeles Dodgers (2001)
Coaching Career:
• Managed in the Cleveland and Houston minor league systems (2004- 2007)
• Tampa Bay Rays – Quality Assurance (2008)
• Boston Red Sox – First Base (2009), Third Base (2010-Present)
FCA Staff Quote:
"The Boston Red Sox are huge in all of New England, especially in Boston, and people follow them 'religiously.' A Red Sox coach like Coach Bogar, who is committed to Christ, has the opportunity to make a great impact in this region." – Fouad Faris FCA Area Director New England Region
--For more stories about faith and sport, visit
www.sharingthevictory.com
, the official magazine of the Fellowship of Christian Athletes. To subscribe to STV, click
here
.

Courtesy of Michael Ivins/Boston Red Sox